Sports
Goalkeeper Buu Ngoc can't go home to mourn his father
Sunday 22/08/2021 10:55(GMT+7)
Bad news came to HAGL goalkeeper Tran Buu Ngoc when his father had just passed away due to illness. However, due to the impact of the Covid-19 epidemic, the goalkeeper has not been able to return home.
In early August, the HAGL team was released from the camp to rest after VFF made the decision to postpone the V-League 2021. While some players returned to their families, many of the team's players, including goalkeeper Buu Ngoc, central defender Huu Tuan… are still stuck at Ham Rong.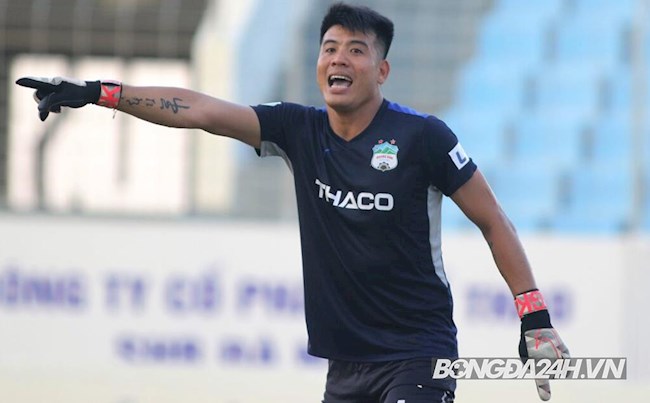 Goalkeeper Buu Ngoc has just received a shock when his father passed away.
That's why, because many localities are conducting social distancing, the players have no means of transportation to their hometown, so they have to continue to stay at the team to practice and rest.
Sharing about this, goalkeeper Buu Ngoc said: "Because Dong Thap province is now also distancing according to directive 16, now even if I want to go home, I can't go home and I don't have a means to return."
And unfortunately for the keeper of the HAGL temple, he did not have time to see his father one last time. It is known that Buu Ngoc's father passed away last night on August 21 due to a serious illness. However, due to the social distancing in localities, HAGL goalkeeper was unable to return to mourn his father.
Before this great loss, Buu Ngoc also shared on his personal page: "Dad, I'm sorry I can't come back to see you three last times. May you rest in peace, my father. I'm sorry. father".
Goalkeeper Buu Ngoc, born in 1991, received a lot of expectations after excellent performances in the youth team of Dong Thap. With a height of 1m92, he proved to be more prominent than us. In the past, the keeper of the HAGL temple has been called up to the U23 Vietnam team many times. Unfortunately, after that, Buu Ngoc could not maintain his form and could not compete for a position in the national team.


Source link: https://bongda24h.vn/bong-da-viet-nam/thu-mon-buu-ngoc-khong-the-ve-nha-chiu-tang-cha-168-292089.html